Oil Change FAQs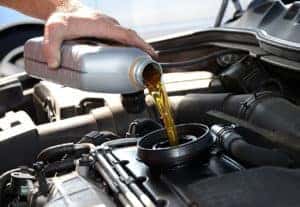 If you want to keep your Mitsubishi car in top shape, you know that routine maintenance is important. One of the most critical services might be the simple oil change. At Ole Ben Franklin Motors we can check your car oil levels and answer any questions that you have about this important bit of maintenance.
What Does Oil Do?
Oil has the important job of lubricating your engine. It protects the smaller, more delicate parts from friction and heat as your engine works hard to keep your vehicle going. With time, this oil becomes less effective, and it can gather impurities that aren't good for your engine.
How Often Do I Need to Change My Oil?
Your owner's manual should tell you when you need an oil change. The general rule used to be that you should get an oil change every 3,000 miles or so, but modern oil blends can last a bit longer than motor oil of the past did. Now the benchmark is every 5,000 to 8,000 miles.
What Happens if I Don't Change My Oil?
If you don't change your oil that old oil begins to struggle to do its important job. Putting off your oil change for too long can hurt your engine's performance. Neglecting maintenance can even result in expensive engine damage.
Will My Car Tell Me When I Need an Oil Change?
Your car has some ways of telling you that it's time to visit our Mitsubishi service center for an oil change. You may notice the following problems if your oil is old and less effective:
Loud noises from the engine
Strange smells
Excess exhaust
Reduced fuel efficiency
So, if you think that you need an oil change, don't delay. Visit our Mitsubishi dealership serving Oak Ridge, TN and meet with our skilled mechanics today!