Get Pre-Approved for Financing in Knoxville, TN
No matter what your credit history is like, at Ole Ben Franklin Motors of Knoxville, we welcome everyone to apply for financing. We make it easy to become pre-approved, thanks to the secure form you can find right on our website.
Even if your credit is less-than-perfect, we will help you secure the financing that works best for you, even if you have previously been turned down for financing based on your credit. We even offer a great incentive, where if you bring home $350 a week, you can get up to $25,000 in credit! This is a great opportunity to help improve your credit, no matter how low your score.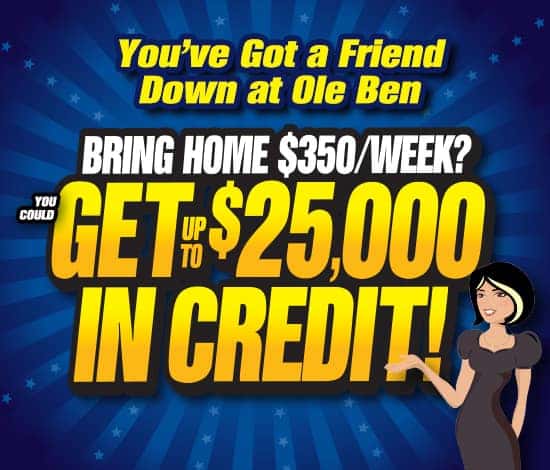 Fast and Stress-Free Online Finance Application
With our simple and secure online form, there is no excuse not to try and get pre-approved for financing for your next vehicle. At Ole Ben Franklin Motors of Knoxville, we go well beyond just looking at a credit score when it comes to helping you find the financing options that work best for your unique situation. We know no two customer backgrounds are alike, and we never use a one-size-fits-all approach to help you get financing. Whether you want to purchase a new or pre-owned vehicle from our massive inventory, we want to help you get the financing you need, and we will never turn you away due to poor credit history.
Don't spend another day worrying about qualifying for financing. Take a few minutes to fill out our online form to get started with the financing process, and you'll be pre-approved in no time!
Why Buy From Ole Ben Franklin Motors of Knoxville, TN?
When you walk through the doors at our dealership in Knoxville, TN, you'll feel at ease knowing you've got a friend down at Ole Ben. We maintain a strong commitment to helping every customer get behind the wheel of their dream vehicle, and when you go through every step of the buying process, the one thing you'll never have to worry about is your credit score. When it comes to financing, we never want your credit score to be a "wall" preventing you from buying the vehicle you want. If you've been turned down in the past for financing due to your credit score, rest assured, we will never let that happen at Ole Ben Franklin Motors. We look at your situation in a holistic manner, rather than just focusing on your credit history. We approve everyone for financing, without letting credit score be a barrier.
Our inventory consists of an impressive selection of both brand-new and high-quality pre-owned vehicles, with some of our used vehicles having the distinction of "certified pre-owned," living up to some high standards. No matter what vehicle you decide to buy, we only require ten cents as a down payment. Yes, you read that right — one dime down, and we will sell you the vehicle you want!
If credit history has been the thing stopping you in the past from obtaining financing, let that fear disappear, because you've got a friend down at Ole Ben!
Start the Financing Process and Get Pre-Approved in Knoxville, TN
We believe every customer deserves to drive home in the vehicle of their dreams and having a credit history that is not "perfect" should never be a limiting factor in buying your next vehicle and getting the needed financing. Getting pre-approved for financing is easy, and can be done with our online application tool, which is secure and takes just a few minutes to complete. We also guarantee it only takes a down payment of a dime to drive home in a new or pre-owned vehicle from our inventory. Don't wait a minute longer! Fill out our application to get pre-approved for financing, and shop our inventory today!