Mitsubishi OEM Parts at Ole Ben Franklin in Knoxville, TN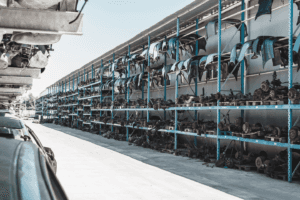 Servicing your Mitsubishi vehicle can sometimes mean needing to replace parts, and when it comes to part replacement, it's critical that you use exact specifics, rather than trying to use anything that might fit. When you use the wrong parts, this can lead to serious consequences, which may lead to unsafe performance from your vehicle, as well as expensive repairs.
At Ole Ben Franklin Motors, we want to make sure you only use OEM Mitsubishi parts for your vehicle, which you can purchase at our parts center. We sell the highest quality authentic OEM Mitsubishi parts, and if there's a part that you need that we don't have in stock, we will order it as soon as possible. You can even order your necessary parts online, based on information about your specific vehicle and as many requested parts as you need.
Mitsubishi OEM parts are designed specifically for your vehicle, and you will only find authentic OEM parts at our parts center. These parts are guaranteed to be a perfect fit and won't cause damage that can often be found with aftermarket parts.
Order Parts
Why Use Mitsubishi OEM Parts?
Whether you need a new part that is crucial to the performance of your Mitsubishi vehicle or you're looking for certain accessories, using OEM parts is essential to ensuring your vehicle continues to run in a safe fashion. Mitsubishi OEM parts are "carbon copies" of the original parts installed in your vehicle, and having an exact replica of the original guarantees quality performance. In addition, OEM parts are typically backed by a number of warranties, which is not always true with aftermarket parts from third-party vendors. That way, if for some reason you do get a part that's faulty, you'll breathe a sigh of relief knowing it's covered under warranty.

Our Wide Selection of OEM Parts in Knoxville, TN
Whether you're looking for accessories for a DIY project, or need specific parts for servicing, you'll find the best Mitsubishi OEM parts in the Knoxville area at Ole Ben Franklin Motors. We always have OEM parts in stock, because we understand the importance of how OEM parts affect the safety and performance of your vehicle. Our experts can also answer any questions you have about OEM parts, especially if you're going to be doing any DIY work. Our service technicians also only use genuine Mitsubishi OEM parts when performing maintenance and repairs. Why risk using aftermarket parts, especially when you know that Mitsubishi OEM parts can make a difference in how your vehicle runs for years to come?
Schedule Service
Schedule Service at Ole Ben Franklin Motors of Knoxville, TN
When you come in for servicing of your Mitsubishi vehicle at Ole Ben Franklin Motors, you'll have peace of mind knowing that our expert technicians only use OEM parts for all maintenance, repairs, and servicing. Staying on top of a regular maintenance schedule is just like visiting your doctor for routine physical exams, and ensures your vehicle continues to run in good working order. We make it easy to schedule your service appointment online, so head to our website and schedule your maintenance appointment ASAP, where our technicians guarantee only the best service and only use genuine OEM parts!
Order Parts