In-House Financing in Knoxville, TN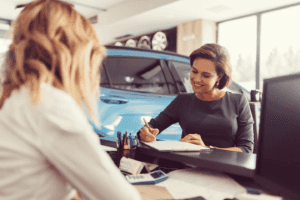 Our main commitment at Ole Ben Franklin Motors is having every customer get behind the wheel of the vehicle of their dreams, regardless of credit history or income. We keep our massive inventory affordable, and we ensure guaranteed credit approval. We also make every effort to make the financing process as simple as possible. Our in-house financing experts can answer any questions you may have, and guide you through every step of the process. Whether you have near-perfect credit history or you're trying to rebuild credit, no one is ever turned down for financing at Ole Ben Franklin Motors of Knoxville.
Apply For Financing
Financing You Can Trust in Knoxville, TN
Safe and secure financing is a key factor in making vehicle buying even more of a snap. We make it easy to begin the financing process right from our website with our simple-to-use application tool. Just provide some basic information about yourself, and our team of financial experts will reach out to you to complete your application, as well as answer any questions or address any concerns you may have. Our online application form is secure and we agree to keep your information safe with us and confidential from questionable parties.
Thanks to our commitment to guaranteed approval, we make sure all of our customers are able to secure financing that works best for them, no matter how poor a particular credit history is. At Ole Ben Franklin Motors, we cater to those with every type of credit, even if you're trying to rebuild a new credit profile. We even allow you to make down payments as low as ten cents, and if you've got a dime, you can drive away in one of our affordable cars, SUVs, or trucks in our inventory.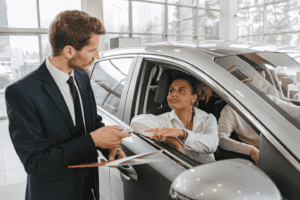 Benefits of Financing Where You Buy
Buying a vehicle from Ole Ben Franklin Motors of Knoxville? There are plenty of reasons to finance directly through us with in-house financing. For one thing, it is more convenient than having to make separate trips to a credit union or bank, you can take care of everything all at one place. We also offer some of the most competitive rates in the Knoxville area, and have a strong focus on helping those with subpar credit. There is also greater flexibility in obtaining financing from a dealership, with more options to choose from, and financing can be more easily tailored to your unique needs and circumstances.
Because dealerships tend to work with multiple lenders, choosing in-house financing can also set you up for lower interest rates, and you also get the quickest approval time for financing when you choose to apply directly with a dealership. Finally, since you get more personal attention during every step of the buying process at the dealership, you're more likely to have attention to detail and more personalized service catered to your financing situation when you go for in-house financing at a dealership. Why go elsewhere for financing, when you can complete your purchase and take care of financing matters right at Ole Ben Franklin Motors of Knoxville!
Apply For Financing