Can You Trade in a Financed Car in Knoxville, TN?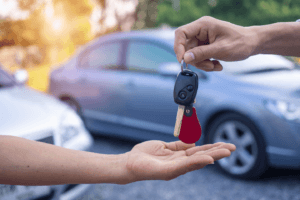 Perhaps you've already committed to financing over a certain length of time to pay for your vehicle. Maybe it's a year, maybe it's five years, maybe it's somewhere in between, and you've been diligently making your monthly payments with the hope of having your vehicle being paid in full before you know it. At some point, even though you might not be done paying off your vehicle, you're probably thinking of trading in your vehicle for a brand new or pre-owned one, and you may be asking yourself, is it possible to trade in a financed car?
Yes, legally, you can trade in a financed vehicle, and you don't have to wait a minimum amount of time before beginning the trade-in process.
One thing to keep in mind is if you owe more on your financing than your vehicle is worth, you may have to invest in a loan of a larger amount for your new purchase to account for the difference. Trading in your financed vehicle does not eliminate outstanding payments, which you would still be responsible for paying.
At Ole Ben Franklin Motors of Knoxville, we make trading in your current vehicle a seamless process, no matter how much you still owe with financing. We allow you to find the exact value of your vehicle right from our website, and you can use that information to help you move forward and learn about the equity of your vehicle. We stand by our commitment to guaranteed approval for financing at Ole Ben Franklin Motors, and never deny any customer from being able to purchase their dream vehicle due to subpar credit, low income, or any other financial constraints.
Apply For Financing
The How-Tos of Trading in a Financed Car
The first step of trading in your financed vehicle is to learn how much your vehicle is worth, which you can easily obtain online through simple-to-use tools such as those from Kelley Blue Book. The value is calculated based on details such as make, model, year, and accrued mileage. From there, you will learn how much equity you have in the vehicle, whether it's positive or negative. The simple definition of equity is the difference between the value of your vehicle and the outstanding balance on your loan. It is important to keep in mind that depreciation of a vehicle happens quickly, and by the end of the first year, depreciation can be as much as 25 percent.
Negative equity occurs when the value of your vehicle is less than what you owe. If you're trading in a vehicle with negative equity, you could either hold off on trading in until you've paid off the loan, pay the difference between your vehicle's trade-in value and the remaining balance on your loan, or roll the negative equity amount into a new loan.
Positive equity is when your vehicle is worth more than the outstanding balance you owe on your loan. When you go to trade in your vehicle, there is a strong likelihood of equity being applied to the purchase of your new vehicle, and this, in turn, reduces the amount needed to finance.

Why Trade With Ole Ben Franklin Motors of Knoxville, TN?
At Ole Ben Franklin Motors of Knoxville, we commit to guaranteed credit approval, and never turn anyone down based on credit history. We also make trading in your current vehicle a seamless process, whether you have positive or negative equity. You can get started right on our website by providing some key information about your vehicle, and you'll get the estimated value within minutes. From there, our friendly staff can get a glimpse of your vehicle's condition, so you can either stop by our dealership or send us some photos. Once we have inspected your vehicle, we will pay you for trading in, and you're welcome to apply the value to your next vehicle.
Financing Options in Knoxville, TN
Guaranteed credit approval is our top priority at Ole Ben Franklin Motors of Knoxville. No matter how poor your credit history is, we will work with you, and we always look at your entire situation, rather than just one number. We keep our inventory of new and pre-owned vehicles super-affordable, and we only require a down payment of ten cents. We make applying for financing easy as 1-2-3, and you can do it without leaving your computer, thanks to our simple online application form.
Apply For Financing
Contact Us Today in Knoxville, TN
If you're trading in your vehicle while still owing a balance on an existing loan, you might have questions about how to proceed. No matter what your credit history or how much you still owe, we will help you trade in your current vehicle for one of the many cars, SUVs, or trucks in our inventory. Contact us today with any questions or concerns!
Contact Us