One Dime Down in Clinton, TN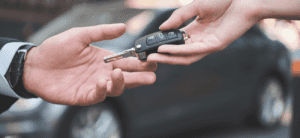 Between auto loans and maintaining vehicle service, we know finance plays a crucial role in searching for the right vehicle. Fortunately, affordable vehicle financing in Tennessee is only a pit stop at Ole Ben Franklin Motors.
Our finance department at Ole Ben Franklin Motors focuses on ensuring your experience meets all expectations. That includes guaranteed financing and guaranteed credit approval that you can trust!
Apply Now
Financing at Ole Ben Franklin Motors is Different
Vehicle financing doesn't have to be unpleasant or stressful. With Ole Ben Franklin Motors, financing a vehicle in Clinton and the surrounding areas is different! Our specialized finance center allows you to choose your next vehicle based on your preference while still not having to worry about going over budget.
We've been able to help many people in Clinton and other parts of Tennessee finance a quality vehicle with our guaranteed financing and credit approval processes. Our finance department caters to all types of credit, even drivers with a poor credit history or no credit.
Affordability and accessibility to put you behind the wheel of a vehicle you'll love is part of our priority in making sure your experience at our dealership near Clinton, TN, is great. If you don't believe it, you should know we even accept payments as low as a dime!
Down Payments As Low As a Dime
Whether you're down the road or an hour away, you can take advantage of our One Dime Down in Clinton, TN! Our One Dime Down option makes it possible to put next to no down payment on qualifying vehicles!
Typically, down payments are a percentage of the overall price and how much you pay upfront. Our One Dime Down in Clinton, TN, option makes it possible to start even lower than traditional down payment prices.
Our finance team will go over your specific options and which vehicles qualify. No matter your lifestyle or budget, you can expect to find a vehicle you love at Ole Ben Franklin Motors!
Other Finance Options at Ole Ben Franklin Motors
Our One Dime Down payment isn't the only finance option we have. Another way to maximize your purchase is to trade your current vehicle for a newer one on our lot. Our online application makes it possible to get a free quote!
We also have leasing options and an online payment calculator to give you a better idea of vehicle costs. Visit our finance page to see what finance options we have for you!
Browse Our Inventory
Many vehicles in our inventory are handpicked based on their quality and capabilities. We try to make sure we have something for any driver that walks through our doors. Specific vehicles for our One Dime Down option will vary, but you can expect to find sedans, SUVs, crossovers, and other types of popular vehicles!
Find a Vehicle Today at Ole Ben Franklin Motors
No matter if you choose to lay One Dime Down in Clinton, TN, or value your trade, we have the team and resources to help you feel confident in your decision. Our Ole Ben Franklin Motors team is here to help you find a vehicle.
Give us a call today if you have questions or need assistance!
Apply Now